wow, finally something modern
Hey @zedrally, check your forum inbox.

Hi Catman, the "Latest" button up top, does exactly this. Let me know if this helps
Also check your profile settings for a few more neat things. You can track Tags and certain categories only.
Ahh. I was used to using something like 'un-read' because, well, they are unread

I worked that both gave me what I wanted, but looks like I could just have used latest

Cheers
C
There's also an "Unread" filter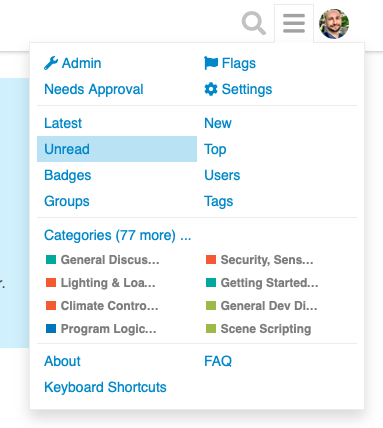 I lost all my smites…do you know how hard I had to work for those!!! (joking…kind of)
*survivor from the EPIC smite thread (old boards)
Not sure that gives you new topics, but can't test now


C
I've added a Dark theme option, for those on the dark side. It can be selected from the hamburger menu.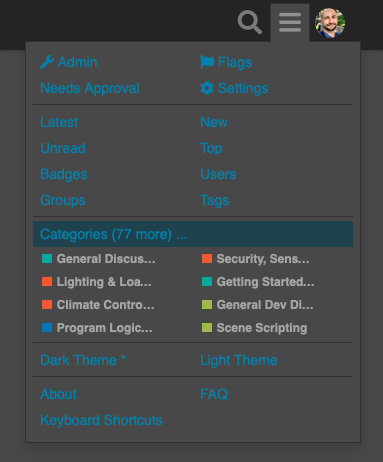 Yes, that doesn't give you New topics. Which is a bit odd, given they are, by definition, unread


C
@Sorin, can you please confirm that the old forum remains available as all links refer to that old forum and a lot of fixes and downloads are available there.
Well this transition was handled like crap. Why wouldn't you forward forum.micasaverde.com to here instead of maintenance.mios.com? I am here almost daily, and had no idea the forums had moved. Multiple tweets to VeraLovers and the FB page - no response or post helping to point out the change.
I am actually kind of upset at Vera for wasting my time.
Took me a while to work out as well. Especially with the bad dates on the maintenance page…
C
I'm sorry you feel this way @wilme2
The Maintainance screen on forum.micasaverde.com was only on Monday, and as soon as the new forum was live, a banner with a redirect was in place.
Starting with Tuesday AM a full redirect was set. If you had issues past Monday it might have been just DNS propagation delay. I'm sure it could have been handled better.
We don't have a close down date for the old forums.
I plan on fixing this ASAP. the huge problem is that, even if I managed to import the attachments, the import process did not attach/link to specific threads or posts. Probably I will have to go through the list of attachments and find a way to map the attach to the same thread/post as it originally was.
The maintenance page was set to end on Monday, at 19:00 UTC/GMT. Since then, the following redirects were set:
http://forum.getvera.com/ and http://forum.micasaverde.com/ ⇨ https://community.getvera.com
http://forum.getvera.com/index.php ⇨ loads old forum
In the old forum, clicking the banner or the register button will get you to the new forum.
@Alecs, would be great if this can be fixed in a way. I do understand it will not be easy but the old information should be kept one way or the other
I really hate the new layout. Guess I am a creature of habit. Liked the post since last visited option. Way too much white space. Can't see spending much time here in the future.
@Sorin and crew, thumbs up, really like the new forum lay out, have been using it for a couple of days and already like it more then the old forum, much better overview and good filter options. Have only been using it on my mobile till today. Now using it for the first time on my laptop and really looks great. Keep up the good work

Thanks, everyone.
We've now added OAuth options for Google, Facebook, and Twitter, to make it even easier to log in and continue your discussions.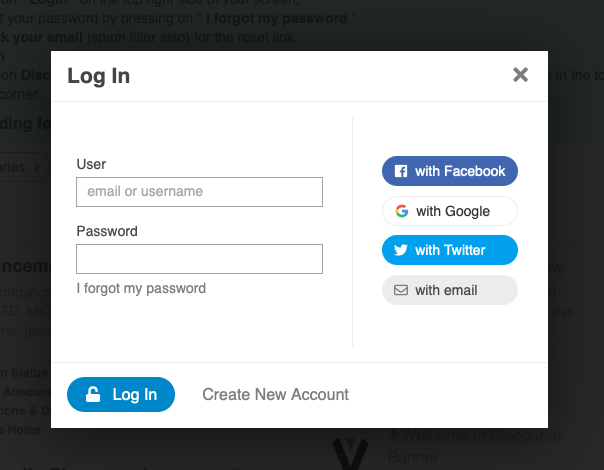 in the migration all the subscription and "watching" threads and boards I was looking for seems to have been lost.
I am trying to recover them, but to do it one by one is not easy.
Is there anyway to migrate also those subscriptions? Is there anyway to find out which ones do we used to have in the old forum and, so, put them in this new one and, how to reinsert them in an easy way in this new forum?
In the meantime, I will try to be used to the new use interface… which is quite different, I don't know if better or worse, simply, quite different.
regards
Javier