Updates for EZLogic - 1.8.1 (Ezlo Hubs only)
Link: https://ezlogic.mios.com
Previous 1.7.1
Updates:
Local MeshBot. Action. MeshBot. Unlatch:
MeshBot with Latch function.


In addition to Reset Latch button (visible for already created MeshBots)

we can reset the latched trigger by other MeshBot's action.

Note: available since advanced_scenes/1.34
Device settings. Status
Added UI changes for device status.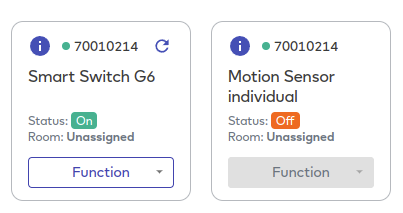 Local MeshBot. Trigger. Vidoo.
We track cameras updates (adding/removing) in Vidoo app and instantly apply changes on EZLogic side.
Fixes/Improvements
Update MeshBot listing after Cloud MeshBot removing.
Show/hide "infinite" option for Pulse function based on advanced_scene version. "Infinite" option available since advanced_scenes/1.37

Thanks!