Updates for EZLogic - 1.47.1 (Ezlo Hubs only)
Link: https://ezlogic.mios.com/
Previous: Updates for EZLogic - 1.46.1 (Ezlo Hubs only)
Settings. Devices Page
We updated devices representation on Device Settings page. We grouped them by controllers and provide ability to filter by rooms.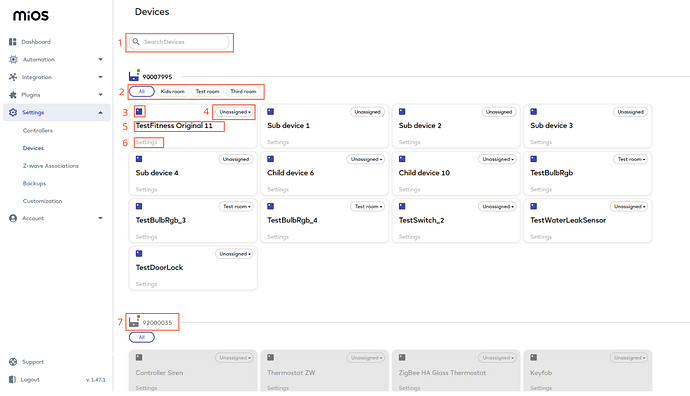 It's possible to search #1 by device name.
You could filter devices by #2 rooms filter.
By clicking on #3 device icon you will get device info (the same behaviour as for "info" button before).
To change the room use #4 rooms dropdown. If device cannot be placed to another room you will have the label with room name.
To rename a device click on #5 device name.
To review or change device settings click on "Settings" button.
In case of #7 offline controller it's possible to review the latest available devices on it.
Note: More changes for Devices Settings soon!
Fixes and Improvements:
Fixed empty Cloud Variables list as right side comparator in Devices node in Cloud MeshBot.
Fixed Devices page flickering on Device Settings page in case of devices' related broadcasts.
Fixed line height for room name in Device node in Local MeshBot.
Thanks!