we recently launched our own CCTV platform that is integrated with our own Hub and Rule engine.
I have seen that but given that I have over a thousand dollars already invested in my current CCTV system I do not want to start over. Thank you for the information though.
The Vistacam 1200 uses rtsp and with that url i should be able to add it to my existing system but how do i get the username and password and url?
of course…this is a free Software you can run on either window/linux computer and will work with any IP enabled camera (so you can use your existing investment).
This software can do, Hotzone, Object detection, Facial detection and has full blown Ezlo Hub built in (softhub). This then allows you to integrate all these "detections" into your rule making engine "Ezlogic"…
I would expect you to be able to use all your investment in cameras etc to be compatible with Vidoo. You shouldn't have to buy anything.
The problem seemed to be no one knew how to find out what the password was for the camera ?
These cams are based on the Ezviz DB1 video doorbell.
The URL for those is like these:
Main Stream:
rtsp://admin:password@192.168.0.101:554/Streaming/Channels/101

Sub Stream:
rtsp://admin:password@192.168.0.101:554/Streaming/Channels/102

Where 192.168.0.101 is the IP address of the camera.
I saw those threads as well but the password problem is still an issue.
Does anyone know how to get the password?
I understand. While the new ezvidoo platform might be awesome, I have been using securityspy from https://www.bensoftware.com for a few years. So with the price of licenses and a new mac mini server I have enough money tied up in my current system that I don't want to abandon it. Also, I am running an Ezlo Secure so I shouldn't need another hub to complicate my configuration. It has enough trouble with dependability without adding another one to the mix. I have had a horrible time with all zigbee devices. Apparently zigbee is now a know issue with these hubs. So… no more hubs, ROFL. I just want the one I have to function properly.
In my case, using Vera Edge, I accessed the Vera's web interface with computer. Then when going to extra settings for the camera you can see the name and password. The password is 40 characters on mine!
That is a fantastic tip. I'll remove it from ezlo and add it to vera to see what happens. Thanks for the information.
I took another look at this and have a few questions.
Is there a MacOS version? (My server is a Mac mini)
Is there a client that I can put on my Macbook/AppleTV/iPhone to view all my cameras?
Is there a MacOS version? (My server is a Mac mini)
right now we have Windows and Linux versions but macOS is in our mid term roadmap

Is there a client that I can put on my Macbook/AppleTV/iPhone to view all my cameras?
Vidoo UI is web-based so you can install in a linux/windows computer and manage/watch cameras, and recordings from a browser on Macbook, AppleTV etc in the same network
You can also view any camera attached to Vidoo using our Vera apps for IOS or Android.
Is there a recommended app to use with the AppleTV?
Don't know about Apple TV, but on my Amazon Fire TV Stick which is Android based, I installed the TinyCam Pro IP camera app and added all my cameras in to it.
I then also installed Tasker and TNES HTTP web server apps on to the Fire stick and created some Tasker rules to automatically bring up my cameras on the TV screen when motion is detected or when someone presses the video doorbell button.
I am using Multi System Reactor rules to send the HTTP commands to TNES / Tasker on the Fire stick, which then will bring up the cameras video feed on the TV screen in Picture in Picture mode. So its like a pop up overlay that appears over the top of what ever TV content I am watching at the time.
Hello, I finally ditched the VistaCam 1200 and replaced it with the EZViz DB1, however when I access it with the IVMS software, I don't even get that CCD section with all those settings. Is there something I need to do to enable that. I've downloaded what I believe to be the latest versions for both Windows and Mac and that section doesn't display on either.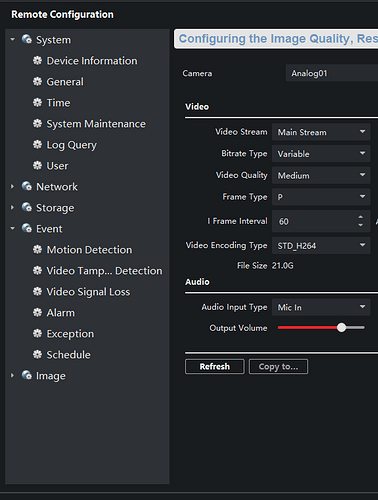 Not that I am aware of, what you saw on those screen shots was what menu items I was seeing in the IVMS software.
Haven't tried it for a long time now however.
Blockquote
Exactly, however, I don't get those options when I access the camera in IVMS. I guess they changed the software, maybe I need an older version. Can you provide the version you were using?
Dave
I just looked at IVMS on my laptop its version iVMS-4200 3.1.1
However I cannot open the application now and am getting an error that says "logging into PES failed"
I might have to update it.
I just updated to this version here and I had to change the port number from 8080 to 8090 to get the application to launch.
I now also cannot see the CCD menu and settings.
I downloaded an older version and the CCD menu was there. However, when I tried to change BLC setting I got an error about communicating with the camera then the CCD menu went away. After some more investigating I found out that basically the newer versions of the app are smart enough to not show the CCD settings if the camera doesn't support them. I have two other hikvision cameras that have all those settings available in their web interface and even the newest IVMS app version has the CCD section when those cams are selected. And I can make any changes I want to with IVMS in that section for those cameras.