Hi Rigpapa!
It's been a while, but I'm still happily using Reactor. I do hope you're keeping well!!
I have a problem that's been puzzling me over the last ~ month, and for the life of me, I can't figure what I might have changed to cause this because it used to work fine for the longest time. I've had this happen with a couple different reactor sensors, but the one I'm including in the logic summary below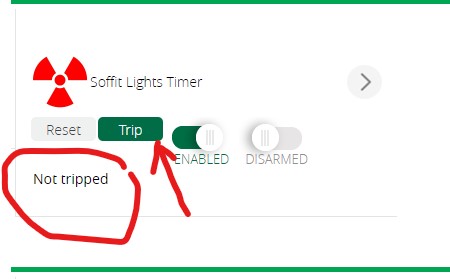 seems to do it repeatedly every morning after I leave the geofence.
It's weird, the sensor shows as tripped (it displays RED in the main GUI), but it clearly says "untripped", and if I go look at the conditions inside the sensor, none of the groups are evaluating TRUE. But the sensor is behaving as if it were tripped…
It's like the sensor isn't resetting after a conditions group goes false. Further, it's not turning off the lights like it should in the "activities", they seem to all stay on. (so, it's like the sensor is never untripping and running the associated activity with its root going false).
I must disable, reset, and re-enable the sensor to get it working again. But next morning, it does the same thing. Can you see by the logic summary where I might be going wrong? Grateful for any help!
Thanks Patrick!
logic summary:
*************************************************** REACTOR LOGIC SUMMARY REPORT ***************************************************
   Version: 3.8-20262 config 20190 cdata 20045 ui 20190 pluginDevice 23 LuaXP 1.0.2enh
    System: Vera version 1.7.5186 (7.31) on Sercomm G450 ID 36 (Vera Plus); loadtime 1668691834/1668691851; systemReady 1668691856; ALTUI v2.54
       Env: Lua 5.1; JSON dkjson 1.2; UnsafeLua=1/true
Local time: 2022-11-17T06:56:51-0700; DST=0; Okotoks, Alberta Canada; formats %Y-%m-%d %H:%M:%S
House mode: plugin 1; system 1; tracking off
  Sun data: { "source": "int", "civdawn": 1668694703, "nautdawn": 1668692288, "sunset": 1668728814, "nautdusk": 1668733423, "stamp": 2022321, "latitude": 50.80855, "astrodusk": 1668735753, "longitude": -113.9485, "civdusk": 1668731008, "astrodawn": 1668689958, "sunrise": 1668696896 }
  Geofence: running in long mode, last update 05:56:00, data version 2
            User 13184032 ishome=0 inlist= since=05:56:00
            |1668047273 "39 Norris Coulee Tr" type="home" status="out" since=11-11.18:31:00
            User 2338371 ishome=0 inlist= since=05:56:00
            |    4 "40 Norris Coulee Trail, De Winton, AB T0L 0X0, Canada De Winton" type="home" status="out" since=05:56:00
            User 2342071 ishome=1 inlist=1 since=05:56:00
            |    1 "40 Norris Coulee Trail, De Winton, AB T0L 0X0, Canada De Winton" type="home" status="in" since=18:06:02
            User 13167702 ishome=1 inlist=5 since=05:56:00
            |    5 "40 Norris Coulee Trail, De Winton, AB T0L 0X0, Canada De Winton" type="home" status="in" since=21:33:02
            Raw: { "updated": 1668693360, "users_settings": [ { "id": 2338371, "ishome": 0 }, { "id": 2342071, "ishome": 1 }, { "id": 13167702, "ishome": 1 }, { "id": 13184032, "ishome": 0 } ], "mode": -1, "users": [ { "id": 13184032, "Level": 1, "Name": "DylanJ", "IsGuest": 0 }, { "id": 2338371, "Level": 1, "Name": "connormacleod", "IsGuest": 0 }, { "id": 13167702, "Level": 1, "Name": "luaunam", "IsGuest": 0 }, { "id": 2342071, "Level": 1, "Name": "pookythecat", "IsGuest": 0 } ], "usergeofences": [ { "geotags": [ { "radius": 750, "accuracy": 0, "id": 4, "status": "Exit", "color": "006e45", "ishome": 1, "name": "40 Norris Coulee Trail, De Winton, AB T0L 0X0, Canada De Winton", "address": "40 Norris Coulee Trail, De Winton, AB T0L 0X0, Canada De Winton", "longitude": "-113.94748862832785", "latitude": "50.80988861591824", "PK_User": 2338371, "notify": 0 } ], "iduser": 2338371 }, { "geotags": [ { "radius": 1034, "accuracy": 0, "id": 1, "status": "Enter", "color": "006e45", "ishome": 1, "name": "40 Norris Coulee Trail, De Winton, AB T0L 0X0, Canada De Winton", "address": "40 Norris Coulee Trail, De Winton, AB T0L 0X0, Canada De Winton", "longitude": "-113.94754730165005", "latitude": "50.809811075280024", "PK_User": 2342071, "notify": 0 } ], "iduser": 2342071 }, { "geotags": [ { "radius": 999, "accuracy": 0, "id": 5, "status": "Enter", "color": "006e45", "ishome": 1, "name": "40 Norris Coulee Trail, De Winton, AB T0L 0X0, Canada De Winton", "address": "40 Norris Coulee Trail, De Winton, AB T0L 0X0, Canada De Winton", "longitude": "-113.94812364131212", "latitude": "50.80917697446602", "PK_User": 13167702, "notify": 0 } ], "iduser": 13167702 }, { "geotags": [ { "radius": 999, "accuracy": 0, "id": 1668047273, "status": "Exit", "color": "ff0000", "ishome": 1, "name": "39 Norris Coulee Tr", "address": "Norris Coulee Tr, Foothills No. 31, Canada", "longitude": "-113.9482177403038", "latitude": "50.80850407712538", "PK_User": 13184032, "notify": 0 } ], "iduser": 13184032 } ] }
        RS: 1668603689,1668607273,1668610465,1668613307,1668627384,1668627458,1668643224,1668643553,1668654156,1668664884,1668664975,1668665066,1668668487,1668668590,1668680212,1668687684,1668687779,1668687872,1668689849,1668691851
        NS: 1654097700:D,1654097780:U,1654098245:D,1654098720:U,1661888460:D,1661889540:U,1663740091:D,1663745820:U,1667640030:D,1667640480:U
************************************************************************************************************************************
Soffit Lights Timer (#25) tripped
    Version 19082.112 11/17/22 06:54:38
    Message/status: Not tripped
    Variable/expressions
       0: SoffitLgtsON             len(iterate( list(21), if(getstate( dev, "urn:upnp-org:serviceId:SwitchPower1", "Status" )=="1", 1, null ), "dev" )) [last 1(number)] (exported)
       2: DarkOutside_Sensor       getstate( 43, "urn:toggledbits-com:serviceId:ReactorGroup", "GroupStatus_root") [last "1"(string)]
    Condition group "Soffit Lights Timer" (AND)  false as of 05:56:04 <root>
      &-F-group "Dark Out Check" (AND)  false as of 05:56:04 <grpbt2xa0j>
      |     &-T-var DarkOutside_Sensor istrue nil [1 at 05:24:54; T/T as of 05:24:54/05:24:54] <cond16857dbe254>
      |     &-F-group "Date&Times Check" (OR)  false as of 05:56:04 <grpbt301o9>
      |     |     |-F-group "M-F Morning" (AND)  false as of 05:56:04 <grp1682a1f4c37>
      |     |     |     &-?-comment "(Mon - Fri);  If connor is home, Turn on Ext. Lights 5:20 - 6:20" <cond1682dcfdef2>
      |     |     |     &-F-service Connor is Home? (42) urn:micasaverde-com:serviceId:SecuritySensor1/Tripped istrue  [1 => 0 at 05:56:04; F/F as of 05:56:04/05:56:04] <cond16857532ef8>
      |     |     |     &-T-weekday { "id": "cond1682a1fba77", "type": "weekday", "value": "2,3,4,5,6", "operator": "" } [5 at 05:24:54; T/T as of 05:24:54/05:24:54] <cond1682a1fba77>
      |     |     |     &-F-trange bet ,,,5,20,,,,6,20 [1668693054 => 1668693279 at 06:54:39; F/F as of 06:20:00/06:20:00] <cond1682a2c832d>
      |     |     |-F-group "Sun-Thu Evg." (AND)  false as of 05:24:54 <grp1683356c849>
      |     |     |     &-?-comment "(Sun - Thurs); Turn on Ext. Lights after sunset until 11:00 PM" <cond16857de388e>
      |     |     |     &-T-weekday { "id": "cond16857d87166", "type": "weekday", "value": "1,2,3,4,5", "operator": "" } [5 at 05:24:54; T/T as of 05:24:54/05:24:54] <cond16857d87166>
      |     |     |     &-F-trange bet ,,,16,0,,,,23,0 [1668693054 => 1668693279 at 06:54:39; F/F as of 05:24:54/05:24:54] <cond1683356f6ef>
      |     |     |-F-group "Fri-Sat Evg." (AND)  false as of 05:24:54 <grp16857dff4c3>
      |     |     |     &-?-comment "(Fri - Sat); Turn on Ext. Lights after sunset until 12:00 AM" <cond16857dff4c4>
      |     |     |     &-F-weekday { "id": "cond16857e00bea", "type": "weekday", "value": "6,7", "operator": "" } [5 at 05:24:54; F/F as of 05:24:54/05:24:54] <cond16857e00bea>
      |     |     |     &-F-trange bet ,,,16,0,,,,0,0 [1668693054 => 1668693279 at 06:54:39; F/F as of 05:24:54/05:24:54] <cond16857e080c1>
      |     |     |-F-group "Dec 24  & 25" (OR)  false as of 05:24:54 <grpcs0juvs>
      |     |     |     |-?-comment "Keep Lighs on thru nite on Dec 24, and on Dec 25" <condn72309h>
      |     |     |     |-?-comment "Christmas Eve --> Christmas day morning" <condn724h8m>
      |     |     |     |-F-trange bet ,12,24,21,0,,12,25,8,0 [1668693054 => 1668693279 at 06:54:39; F/F as of 05:24:54/05:24:54] <condcs0k27c>
      |     |     |     |-?-comment "Christmas day evening --> Boxing day morning" <condn726n3h>
      |     |     |     |-F-trange bet ,12,25,21,0,,12,26,8,0 [1668693054 => 1668693279 at 06:54:39; F/F as of 05:24:54/05:24:54] <condn726ssf>
      |     |     |-F-group "Lights for Ashley Bus" (AND)  false as of 05:24:54 <grp1qj8to0e>
      |     |     |     &-T-sun before sunrise+0, [1668693054 => 1668693279 at 06:54:39; T/T as of 05:24:54/05:24:54] <cond1qj8upxc>
      |     |     |     &-T-weekday { "id": "cond1r4g5edy", "type": "weekday", "value": "2,3,4,5,6", "operator": "" } [5 at 05:24:54; T/T as of 05:24:54/05:24:54] <cond1r4g5edy>
      |     |     |     &-F-service Glbl Functions Ctrl (81) urn:toggledbits-com:serviceId:ReactorValues/AshleyBusON istrue  [0 at 05:24:54; F/F as of 05:24:54/05:24:54] <cond1r6194l7>
    Activity root.false
        Run scene 47 OFF Soffit - Ext Lights (via int exec)
    Activity root.true
        Run scene 46 ON Soffit - Ext Lights (via int exec)
    Events
        2022-11-17 06:30:51: Reactor startup (Luup reload)
        2022-11-17 06:30:51: Starting (Luup Startup/Reload)
        2022-11-17 06:30:53: Sensor update starting
        2022-11-17 06:30:53: Sensor update completed; 0.128s
        2022-11-17 06:50:15: Configuration changed!
        2022-11-17 06:50:15: Sensor update starting
        2022-11-17 06:50:15: Sensor update completed; 0.080s
        2022-11-17 06:50:54: Configuration changed!
        2022-11-17 06:50:54: Sensor update starting
        2022-11-17 06:50:54: Sensor update completed; 0.097s
        2022-11-17 06:54:39: Configuration changed!
        2022-11-17 06:54:39: Sensor update starting
        2022-11-17 06:54:39: Sensor update completed; 0.127s
    Devices
        Connor is Home? (42) urn:schemas-toggledbits-com:device:ReactorSensor:1 (4/0); parent 23; plugin -; mfg  model ; dev D_ReactorSensor.xml impl 
        Glbl Functions Ctrl (81) urn:schemas-toggledbits-com:device:ReactorSensor:1 (4/0); parent 23; plugin -; mfg  model ; dev D_ReactorSensor.xml impl 
        Reactor Main Control (23) urn:schemas-toggledbits-com:device:Reactor:1 (1/-1); parent 0; plugin 9086; mfg  model ; dev D_Reactor.xml impl I_Reactor.xml
    Watches
        Device #25 Soffit Lights Timer service urn:toggledbits-com:serviceId:ReactorSensor variable TestTime
        Device #43 Dark Outside service urn:toggledbits-com:serviceId:ReactorGroup variable GroupStatus_root
        Device #21 Soffit Lights ZW116 service urn:upnp-org:serviceId:SwitchPower1 variable Status
        Device #81 Glbl Functions Ctrl service urn:toggledbits-com:serviceId:ReactorValues variable AshleyBusON
        Device #25 Soffit Lights Timer service urn:toggledbits-com:serviceId:ReactorSensor variable TestHouseMode
        Device #25 Soffit Lights Timer service urn:toggledbits-com:serviceId:ReactorSensor variable cdata
        Device #42 Connor is Home? service urn:micasaverde-com:serviceId:SecuritySensor1 variable Tripped
    Special Configuration
        UseReactorScenes = 1
        Retrigger = 0
        FailOnTrouble = 0
        ContinuousTimer = 0
    Scenes
        Scene #47 OFF Soffit - Ext Lights
            Group 1
                Device 21 (Soffit Lights ZW116) urn:upnp-org:serviceId:SwitchPower1/SetTarget ( newTargetValue="0" )
                Device 92 (GE Outdoor SS #1) urn:upnp-org:serviceId:SwitchPower1/SetTarget ( newTargetValue="0" )
                Device 63 (Front Eaves ZW116) urn:upnp-org:serviceId:SwitchPower1/SetTarget ( newTargetValue="0" )
                Device 168 (Garage Mandoor Light) urn:upnp-org:serviceId:SwitchPower1/SetTarget ( newTargetValue="0" )
                Device 146 (Patio Tri-Light) urn:upnp-org:serviceId:SwitchPower1/SetTarget ( newTargetValue="0" )
                Device 140 (Lghts - Shed Outside) urn:upnp-org:serviceId:SwitchPower1/SetTarget ( newTargetValue="0" )
                Device 57 (Rear Deck Lghts) urn:upnp-org:serviceId:SwitchPower1/SetTarget ( newTargetValue="0" )
        Scene #46 ON Soffit - Ext Lights
            Group 1
                Device 21 (Soffit Lights ZW116) urn:upnp-org:serviceId:SwitchPower1/SetTarget ( newTargetValue="1" )
                Device 92 (GE Outdoor SS #1) urn:upnp-org:serviceId:SwitchPower1/SetTarget ( newTargetValue="1" )
                Device 63 (Front Eaves ZW116) urn:upnp-org:serviceId:SwitchPower1/SetTarget ( newTargetValue="1" )
                Device 168 (Garage Mandoor Light) urn:upnp-org:serviceId:SwitchPower1/SetTarget ( newTargetValue="1" )
                Device 146 (Patio Tri-Light) urn:upnp-org:serviceId:SwitchPower1/SetTarget ( newTargetValue="1" )
                Device 57 (Rear Deck Lghts) urn:upnp-org:serviceId:SwitchPower1/SetTarget ( newTargetValue="1" )