Hi @rigpapa. Back in Dec you helped me in determining when a device has not updated within a certain amount of time. Device not updating. Possible use case - #11 by 3rdStng - Reactor - Ezlo Community
Well, it took until now for that device to finally kick itself offline and stop updating. I've attached a couple of screenshots of the current setup, as well as the Logic Summary. Could I get some assistance in the expression setup? Ultimately my goal is that if my Netatmo last update status is the same for 30 minutes, then turn off/on my plug which will power cycle the Netatmo. As you can see in the screenshot, the last update was "Fri 19:51". I took the screenshot Saturday afternoon. However the currval and lastval never changed and didn't trip the Reactor value to be True.
Is a 3rd value variable needed? CurrVal, PrevVal, PrevPriorVal. Then if PriorPrevVal == PrevVal, power cycle Netatmo? Or is that an easier way now with Reactor 3.5? All this was previously setup using 3.4.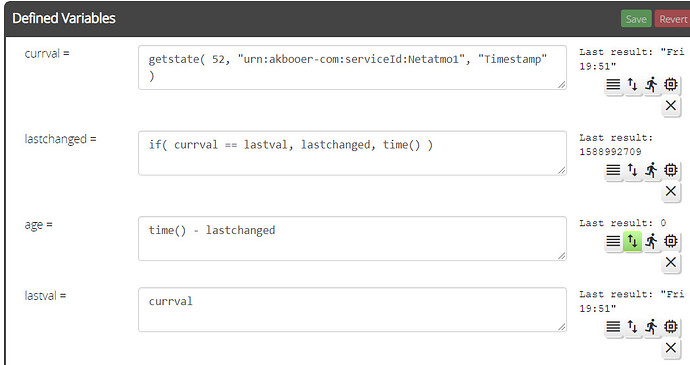 Logic_Summary.pdf
(13.6 KB)