I tried 3 different browsers. Plus mios iOS app
All I get are these devices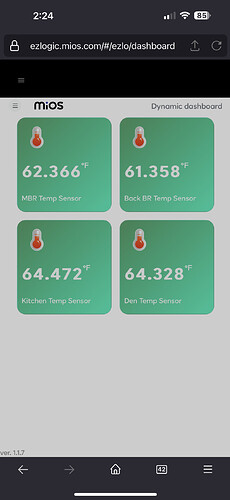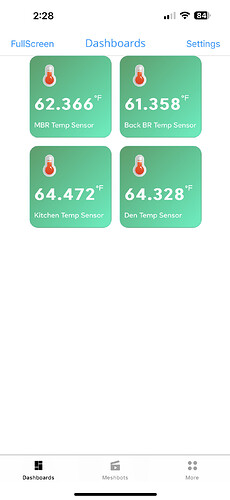 Anyone else have this issue?
Hi @BillC
it could be a momentary problem connecting to cloud servers. Can you please let us know it continues for long time pls
All of my equipment controle links - switches, Lock, Thermostat - on my Dashboard is gone too.
Still showing hardware and Meshbots.
Still there and working in Vera Mobile and MIOS Moble apps.
Marvin
Devices still seem to be hiding.
It seems there is a problem on our end. We will fix it asap.
Our team is on the issue. Thanks for your patience. We will update here as soon as it is fixed
Me too, many of my devices dropped seemingly coincidental with the firmware update to my EzloPlus 2.0.38.2193.2 a couple days ago. Had some digital inputs, relays, temp probes (from three IP Devices) and Zwave modules. Now just temp sensors show on dashboard.
Not a pressing matter for me right now, just FYI to Ezlo.
Update: I should have mentioned the devices are fine and show up in the iOS app and under the devices tab in Ezlogic.mios.com. They just don't auto-populate the dashboard right now.
The issue effects dashboard showing device tiles and plugin/IP device marketplace. All your data is there and safe in cloud. It is just a problem on the services retrieving the public tiles and plugins. We will update here immediately
I am having the same problem. I have an ezlo secure. I use an Android phone and all seems to be OK there, I also use a windows laptop PC that is where I am having problems. Out of about 50 devices only 5 appear on the dashboard. This has been happening for the past 2 days. I use the PC to create meshbots and they are all there and under settings and devices they are all there. It is just the dashboard that seems to be the problem. The address I go to access my system is MiOS Smart Home
The problem is not fixed yet. We will update immediately when it is fixed.
Hi all, the issue is fixed now.
Thank You!
Nice to have everything working again.
Marvin
yes, working for me as well.
Yes, It's back for me as well. Thank you.
Richard