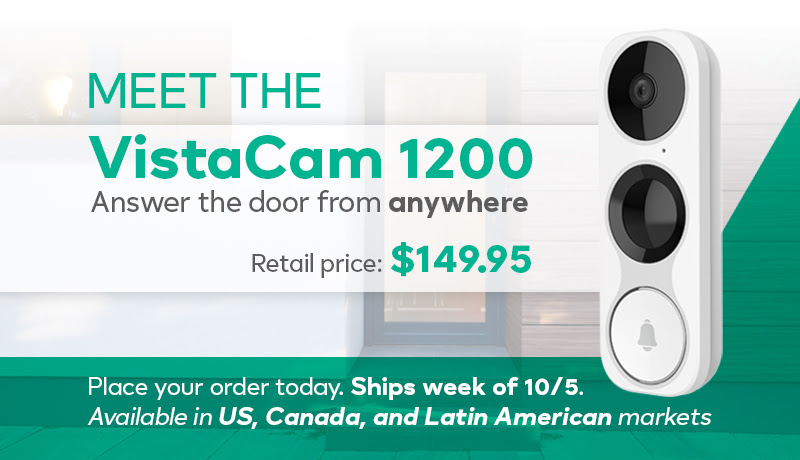 Order today: https://getvera.com/pages/vista-cam-1200
Does this support RTSP streams or ONVIF? I use zone minder to monitor my cameras, so this would only be an option if I can integrate it with zone minder. Of course, I can't afford it at the moment anyway…

Looks nice though!
Ok, a few oddities on the specs page:
Under hardware, it says "connectors: RJ-45 with PoE Connection", but then under Network Connection is says "Ethernet: NO". So which is it?
Of course, it then says for Power input "Transformer Wiring", so I'm guessing no PoE?
For Operating Environment it says "Usage: Indoor" which makes no sense for a doorbell which is, pretty much by definition, outdoor
Of course, it does have an IP65 rating, and temperature rated down to -30ºC, so that would seem to imply it would be fine for outdoor use…
It supports RTSP.
No PoE.
Correct, it is outdoor.
We're still fixing the page

Looks like a clone of the Ezviz DB1 doorbell I have.
With its Ezviz firmware it supports Rtsp streams but not http mjpeg or jpg snapshot. And no Onvif support.
Apparently you can flash different OEM firmware on it to enable some of those features, but you lose Google Home support I think.
All the information is in this long thread somewhere.
I also wrote about my doorbell camera and how I integrated it into Vera here.
So can your doorbell camera be added to Vera via Rtsp?
I thought Vera only supported jpg / mjpeg.
Yes, VistaCam 1200 is integrated with VeraEdge, VeraPlus and VeraSecure. You need the last fw 7.31 + hotfix that was released last month. You can include it by going to Devices → "+" → Doorbells → VistaCam 1200.
And how tight is that integration?
Does it create a "virtual" motion sensor device in Vera for the doorbell cameras motion triggers?
Not available in the UK and EU?
Yes, it does create a "virtual" motion sensor in Vera which is tied to the hardware PIR sensor of the camera.
Nice sounds good!
I had to use Blue Iris software on my Windows server to get jpg / mjpeg streams for the Ezviz DB1 doorbell camera and that also enabled me to create a virtual motion sensor device in Vera which Blue Iris trips and untrips.
So are you using your own custom firmware on this Vista Cam 1200?
Presumably doorbell button presses of the Vista Cam 1200 are also integrated with Vera and can then be used as a trigger for a scene?
I had to also wire in an Everspring door contact sensor with binary input, to get that same functionality with Vera and the Ezviz DB1
Exciting! So what exactly happens when someone rings the doorbell? Do i get a notif through the Vera app? Can I answer it through the app as well?
Yes. You get a notification on your phone and on-tap it opens the live view and you can talk to the visitor.
Yes, that's correct.
Not at the moment, but it is noted in the backlog.
Not yet, sorry. We need a different hardware, adapted to the EU power.
Not having a doorbell button pressed trigger is a bit of a problem. Hopefully you guys at Vera can add that soon.
I have a Vera scene that displays the doorbell camera image on all my Android tablets round the house when the button has been pressed.
Does other things as well, like sends TTS announcements to all the Google Home speakers round the house and a Telegram message to my phone.
Main reason I bought the Ezviz DB1 is it has a local SD card slot for up to 128GB storage so no cloud subscription is needed and my recordings are stored locally. They do have a cloud service if you want to pay for it.
The Ezviz app is fairly decent also and you can also use Hik Connect app as this is a Hikvision doorbell camera, as Hikvision own Ezviz.
All other available "clones" of this doorbell camera from other companies are just that, they have different firmwares and some different features however.
Good doorbell camera hardware I'm happy with mine just a shame it doesn't natively support jpg / mjpeg streams.
This is a neat idea if you ask me. *bump @Ioana

Noted

I installed my old ATZ video door phone with Lan cable because the Wifi was very far from the gate and I live on the second floor. Is there a version with RJ45 connection for those who live on the upper floors or have a distant gate?
Unfortunately we don't have the RJ45 connection. It's purely Wi-Fi.
Is it possible for you to install a wi-fi repeater?
For me a PoE connection is very important, or even RJ45, good to have something working with vera/ezlo from out of the box, but for now i will stick with doorbird until something happens in future.