Hi everyone,
Our new plugin for Ezlo controllers, SmartThings plugin is on the marketplace. You can copy it to your controller and start using it immediately.
The SmartThings plugin enables you to integrate your SmartThings hub into the Ezlo ecosystem so that you can control your SmartThings devices via our web and mobile applications, as well as include them in your MeshBot automation. In the first version of the plugin, we support switches, dimmers, dimmer-switches, and contact sensors.
In order to install the Ezlo SmartThings plugin on your controller, navigate to the plugins marketplace on EZlogic, and copy the plugin to your Ezlo. Once you do that and are taken back to the My Private Plugins tab, click the Manage Installations button for the SmartThings plugin and install the plugin to your controller. Once you do that, you will see a success message and the plugin will be ready for configuration. Click the Configure button and fill in three fields.
You can generate a token using this link: SmartThings. Add a little smartness to your things.
The token you get will be active for 50 years. Please, save it in order to use it for plugin configuration.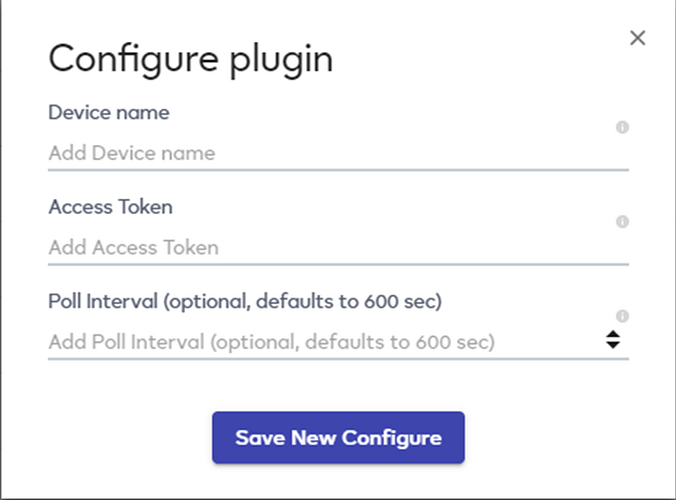 Once you click Save New Configuration, your SmartThings hub and all devices connected to it will be added to your controller this plugin was installed on. You can view a list of devices added via the SmartThings plugin by clicking the Devices button.
These devices can also be seen in the Devices list among all your other devices.
You are now ready to control your devices paired to your SmartThings hub via our web interface and mobile apps, as well as include them in your powerful MeshBot automations. When creating a MeshBot, just pick them from among your devices and they'll work no differently than if they were paired directly to your Ezlo controller, saving you the trouble of having to choose one hub or the other. You can also visualize the state of your devices paired to your SmartThings controller and even control them via the Dashboard.