It appears according to the documentation that, using the MQTT plugin, I can set the device created by said plugin as a trigger in a meshbot. I would think this would enable me to trigger the meshbot by publishing a specific message (correct me if I am wrong).
To test this out, I set up a meshbot as per the following screen shot: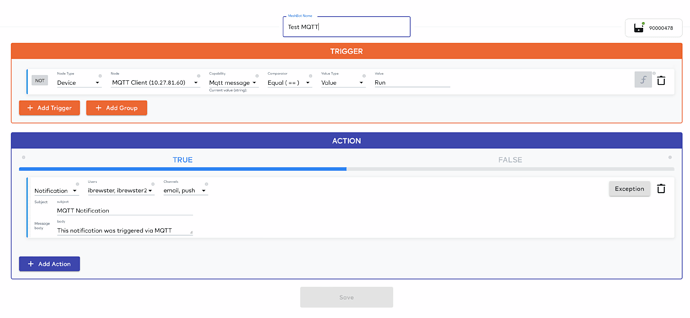 Then published a message to the ezlo/notify topic (picked arbitrarily) with the content 'Run'. However, as far as I can tell nothing happened, though another client subscribed to the ezlo/notify topic did receive the message, so I know it went through.
So, can anyone tell me how to properly use the MQTT plugin as a trigger? Thanks.
EDIT: I tested the setup by adding a MQTT action to this meshbot that published a message, then running the scene manually. The meshbot did, in fact, publish the message correctly (it showed up on another client I had subscribed), so I'm fairly confidant that the plugin is set up correctly and communicating with the broker. So it should just be a matter of setting up the trigger correctly and sending the correct message to the correct topic…I would think?