I've used this method to secure discounts for forum members with other forums that I am active on such as Reef Central, Corvette Forum and others. Feel free to google my username to see that I'm legit and honest.
Edit.
The group buy is now open and has been extended until June 15th!!! The price is $55 each. Read details below.
The discount code is: Vera1506
Got to:
http://starlinepc.com/index.php/z-wave/vents-registers.html
It processes a $20.00 discount to each vent which will reduce the price of $75.00 to $55.00.
Go to ?Edit Cart? before check out and apply the discount code.
For customers that want a white controller for the 6x10 brown vent, make a note in the field for the fax number as ?White Controller?
Thanks for participating in this group buy! We will setup a separate thread in this section of the forum so we can share our configurations, idea's and any other relevant info pertaining to our setup.
I've been in contact with Econet Control. They manufacture a Z-Wave controllable duct vents that has been tested to work with Vera. It will function as a dimmer switch and give you the ability to open, close or even partially open/close vents via Z-Wave commands and scenes. For me, I run a single central AC in my 2 story home and as you can imagine, it's a very inefficient setup. My plan is to use these vents to create an upstairs zone and downstairs zone. I will create scenes to Heat Upstairs or Cool Upstairs. Either of which will close the downstairs vents and open the upstairs ones. Then trigger the heat and use the upstairs temp sensors for the set point. I will have separate scenes for Heat Downstairs and Cool Downstairs that will close the upstairs vents and open the downstairs vents. Then use the temp sensor downstairs to control the set points. This should save me a small fortune on cooling and heating costs while also not turning my upstairs into an oven when I run the heat since my existing thermostat is in a lousy location downstairs. I'm switching to an Ecobee3 thermostat to help with this implementation but any Z-Wave or Vera controllable thermostat should work well in this scenario.
These vents normally range in price from $75 to $95 each depending on where you look. I have secured Vera Forum members a tiered discount based on the Qty that we can put together. This offer is currently for US Based members and possibly our Canadian neighbors but there may also be options for international customers if the interest is there. The Qty discounts are based on total combined group purchase Qty.
I will likely be ordering 7-10 vents myself. I would like to get some feedback here from members who are seriously interested in participating in this group buy. If you are seriously interested in purchasing some of these vents, please reply to this thread with the qty you will be wanting. Please make sure you subscribe to this thread by hitting the "Notify" button at the top right of this page so you can keep up with updates and make the purchase when we have enough commitment to make it worth while. When it's time to place orders, we will coordinate that with Econet. I'm thinking this group buy will run for 30 days. Depending on the feedback here, we can ship as soon as we get enough commitment. I am buying these regardless of the numbers we achieve but if we can hit 25 vents, that would be a GREAT opportunity for all who take advantage of this offer. You will be buying these directly from Econet once we determine the desired count and open the purchase up. More information on these vents can be found at: http://econetcontrols.com/EV100.php
These are the available vent sizes. These sizes are based on the internal register. You will need to remove the vent and measure the opening to determine your vent size. The pricing is the same for all sizes and the discount will be based on total number of vents in any combination of sizes. Note that presently, they have more sizes in brown than white. If you need a white vent that is only currently available in brown, a white Z-Wave module can be included and you can just paint the outside of the vent. They are metal so a can of Krylon will fix that.
EV100-4X10WH Z-Wave Z-Vent register for 4" x 10" mounting, white
EV100-6X12WH Z-Wave Z-Vent register for 6" x 12" mounting, white
EV100-6X12BR Z-Wave Z-Vent register for 6" x 12" mounting, brown
EV100-4X12WH Z-Wave Z-Vent register for 4" x 12" mounting, white
EV100-4X12BR Z-Wave Z-Vent register for 4" x 12" mounting, brown
EV100-6X10BR Z-Wave Z-Vent register for 6" x 10" mounting, brown
EV100-2X12BR Z-Wave Z-Vent register for 2" x 12" mounting, brown
EV100-2X12BR Z-Wave Z-Vent register for 2" x 12" mounting, brown
This is the discount pricing for this group purchase. These prices don't include shipping but shipping will be cheap. It will be based on destination address and weights. Ground shipping for several vents should be under $20 total. Keep in mind that I will be purchasing several myself so we will certainly be at the 10 unit pricing right of the bat with my purchase. If we can get commitments from a few other members, then I think we could get to the 25+pc qty price break which would be a great deal on these vents.
Combined group pricing… Again, the quantity discounts below reflect total group purchase not individual purchase. As such, we all save based on the group quantity commitment. If for example, 3 people here (myself included) get us to a total of 25 pcs and you only need 3 vents, then your cost will only be $55 a vent which is a real bargain!
1-4 units, $75.00
5+ units, $ 69.00
10+ units, $ 65.00
25+ units, $ 55.00
If you have any questions about this purchase or the product, feel free to ask here and I will try to answer the questions to the best of my ability or refer you to Econet if I don't have the answer. If you want to participate in this group buy, please reply below with the qty and part number/size color you want. Once we get a few commitments, we will open this purchase up with Econet.

About the product:
Z-Vent Model: EV100 Z-Wave Vent/Register
Adding the Z-Vent to your Z-Wave home automation system reduces energy cost. Evenly distribute air flow for Heating or AC in your home. Automatic and intelligent control of room venting. Shut off air flow to rooms when they are unoccupied or automatic temperature control for each room. Partially open of close vent to balance air flow. The Z-Wave Z-Vent is compatible with most Z-Wave controllers and Z-Wave Control Software allowing scheduling, temperature and occupancy automation of heating or AC air flow in your home our business. Various vent sizes are available. Easy programing and setup.
Certified Modular Z-Wave Controller
Open/Closed or
Position increments of 10 degrees
U.S. Standard Frequency
Steel and Plastic construction
Requires 2 x AAA Batteries
5 standard sizes (see price list)
Intelligent position feedback (open/closed)
Battery Level feedback
Red/Green LED indicators
Pairing button (Z-Wave inclusion/exclusion)
Manual open and close buttons
Quick Start Guide can be found here:
http://econetcontrols.com/PDF/Z-Vent-Quick-Start-Guide-v3.pdf
Here is a video overview of the vent: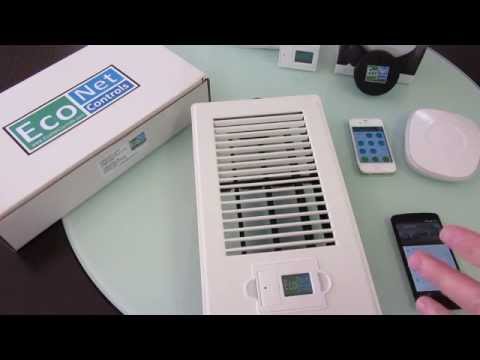 Here is a video of the vents in action.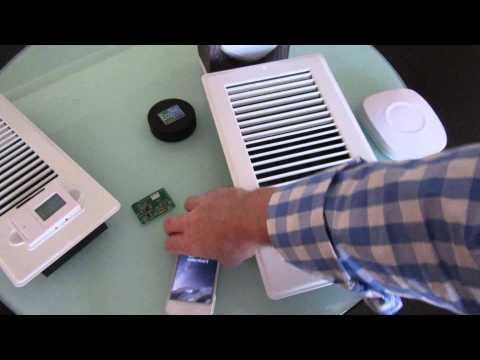 Again, here is the link to the Econet Controls.
http://econetcontrols.com/EV100.php