Hi @amg0,
I created a Heater device type to control a car climate (on/off and temp), but on ALTUI it is not displaying or working correctly. Do you have any suggestions? The device is based on the D_Heater1.xml.
This is how the control tab shows on ALTUI: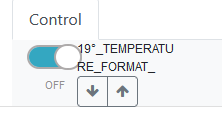 It would be nice if it shows the Inside temp (CurrentTemperature) and the CurrentSetPoint temp.
Cheers Rene