Is it a external zwave antenna smb contact that I see?
Yes, for Zwave we are using external antenna.
All those pinouts make it a potential hobbyist's dream!
Nice!!! Really looking forward to get my hands on it…
we want to give you as open of a platform as it can be!
That 16GB iNAND eMMC on-board flash drive ain't too shabby, either.

its a beast!!! I am using it…its crazy fast thanks to all the brand new firmware! Loving it! Can't wait to see you guys play with it too!
My faith has been waning lately but the openness of support and leadership has me coming back and wanting more. My Vera Plus has been troubled, no need to go into details but I am excited again with the direction Ezlo is taking. Bring it on.
Hello
can you tell us a bit more about the features, the use of scenes or rules, the peripherals supported, the possibility of using the led in front of the box, the possibility of migrating an installation of a vera to the new box please?
I registered. Can't wait.
Like a fine pair of Ferragamos in my size!
Is that mine on the far left?

All communication modules are latest and gratest.
We have 700 Series Zwave chip onboard and Zigbee EFR32MG13
Also one of the latest WiFi chip from Ampak.
Kudos to the open disclosure of your commercial innovations during the development phase!
Looks like a speedy, capable and compact HA controller that will stomp all over our Vera Plus and Vera Edge controllers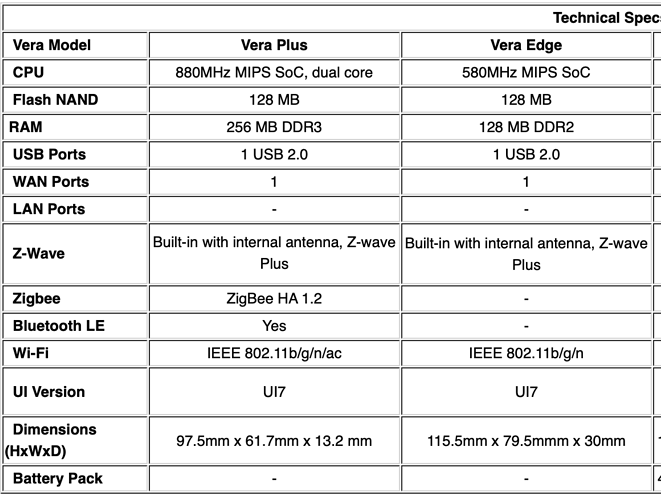 That sheet for the VeraPlus is wrong by the way. It's not a dual core. It is an MT7621S which is a single core dual thread. The Vera Secure has an MT7621A which is a dual core quad thread.
I am much much more reserved on the CPU. Being 32bit and really equivalent to the initial version of the rPi2 circa 2015(v1.1) which was rapidly replaced in v1.2 with a much more capable CPU in 2016. It's only 1 year newer than what the vera had and is very very limited once to do anything beyond simple IOT bridge processing. When it comes to CPU it's not about the average requirement, it's about the peak. It's neither power nor cost efficient. It's just cheap. It would have greatly benefitted from going to an ARMv8 64bit architecture which except for the <$10 "zero" type devices, the SBC market has migrated to since 2017…
Looking at the hubitat which 2 years ago released with an amlogic S905W which is a quad core A53 ARMv8 processor, you are already seeing limitations in large complex automation environment with people complaining about it. This thing is about 3-4X slower.
Fair enough but I meant on a relative scale, it's a nice hardware bump. More than twice the cores, 1.5x higher clock speed, 16x more memory, 128x more flash NAND, newer z-wave and zigbee chips, etc. 64-bit really doesn't mean anything unless you need a large address space or high-performance double-precision math (e.g. machine learning, video codecs, etc.) because it takes twice the RAM to store each word with no real benefit for HA controller use cases IMHO. This also doesn't include the potential performance improvements from the new firmware stack and if we are "able" to federate the controllers, then no one controller's CPU should be pressed to the limit but admittedly much of this is hypothetical and unproven. What is proven is that ezlo is investing in hardware, software, services and support in an open fashion and shining a light on the positive helps keep things moving in a beneficial direction for everyone involved.
the most important thing is the Firmware…You can have a really sluggish overall system with a fast CPU and a bad FW or fast system with a slow cpu and nicely optimized FW. Its a "system"…that has to be considered together to understand what it can do for you…
We have one amazing FW! And Yes, on top this huge computing power on top!